Easy to find - impossible to forget. Among the shared wall buildings on Bridge Street in beautiful downtown Breaux Bridge — almost hidden in plain sight — Café Sydnie Mae sits on a corner and welcomes patrons to come in and enjoy life for a while. Café Sydnie Mae is the result of a collaboration between Chip Durand — son of the restaurant's namesake, Sydnie Mae Durand — and the present owners, David and Cheryl Puckett.
AN INCREDIBLE RESTAURANT EXPERIENCE
Great restaurants are a combination of incredible food, excellent waitstaff, warm and inviting atmospheres, and smiling managers that keep it all running like a well-oiled machine. Let's start with the food, shall we?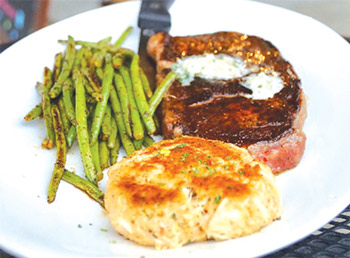 Go get the Breaux Bread! If you have just one thing on their incredible menu, make it this unassuming little appetizer. On the surface, it's just a warmed loaf with parmesan cheese, olive oil and marinara sauce. But in reality, it's so much more than that. This appetizer cannot be oversold … it's that good.
When it comes to their steaks, the devil is in the details. Yes, the cuts are excellent, and yes, they are grilled to your liking with a wonderful crust and an incredible herbed compound butter that melts away.
Among their signature dishes is a little jewel named Teche Wellington. This is decadence from the sea. Puff pastry is filled with seafood and baked until crispy and brown. Then it is surrounded by a velvety smooth sherry cream sauce with shrimp and crab meat. It's even better than it sounds.
Looking for another destination dish? Café Sydney Mae's grilled pork chops are why grills exist. French cut pork chops are brined and then grilled to your liking (just don't go past medium).
Even the sides are a cut above: creole cream cheese grits … that's all you need to know.
THE SPECIALS ARE SPECIAL
You know the old adage that says you shouldn't order the chef's special? Well forget that here. Order the specials. Chef Kim Nuzum goes deep into her book of culinary knowledge to offer some truly unique dishes. Nuzum is a graduate of the Culinary Institute of America, and it is abundantly evident that she has learned well.
"I love to push the envelope," she said.
Classical French cooking techniques can be seen in most of her dishes. Even traditional Cajun favorites are executed with pinpoint precision. "It's important to me to control the process," she said, "and if something should fall short, I can find and correct the problem quickly."
Nuzum enjoys making one-off dishes and unique creations as she draws inspiration from everything around her. "I love to push the envelope," she said.
FIND YOUR HAPPY
Owner David Puckett books live music every weekend, usually three different performers each week. Combine that with a great bar that knows just how to mix a drink, and you've found a place that makes you want to stay a while.
Go to Breaux Bridge. Park a few blocks away and enjoy the walk up. David and Cheryl will probably be sitting outside, and he will quickly get up to welcome you and open the door.
Enjoy the surroundings, have some incredible food, and know that you have found your "happy place."