"I DIDN'T KNOW ANYTHING AT ALL ABOUT SPACE," explained 19-year-old Alyssa Carson. "And I really just started asking questions, looking at books, videos and posters — just anything about space." But why? From where did this spark and passion for stars, planets, galaxies and more come? "The only reason we can think of is an episode of "The Backyardigans" because it had an episode called "Mission to Mars.""
And there you have it. Credit a Nickelodeon children's show from the first decade of the 21st century for inspiring a child from the Baton Rouge area to take her dreams beyond planet Earth. Simply put, Carson wants to become an astronaut.

Jump from the early 2000s to the early 2020s where things are progressing nicely. "My major in college is astrobiology," said Carson. The college in question? The Florida Institute of Technology. And the area of study? "Astrobiology, at its simplest level, is just science in space. With it, you can study bacteria in space, plants in space, and search for Earth-like planets in other solar systems."
"Definitely, it's been a dream of mine to want to actually go to mars, to be on the surface, and it would actually be amazing."
But there's a storytelling gap that's clearly evident, specifically a time gap between Carson's love for an imaginative kids' show to a cerebral degree where ideas move closer to becoming world-changing, perhaps universe-changing reality. Cue: Space Camp in Huntsville, Ala., at NASA's Marshall Space Flight Center at the age of seven. "I was truly in my element while I was there, trying to learn everything I wanted to know about space," Carson said, her eyes illuminated as she harkened back to a most special time. "There were ride simulators, exhibits, activities; it was everything I wanted to know. So, yeah, being in my element, I realized this was something I wanted to do."
What is on Mars?
Ah, the question: What is on Mars? Why does any of this matter? And why should those on planet Earth care about the red planet? "Oh, where do I start? There is so much potential," she explained enthusiastically. "We have found so much water on Mars, and we have seen ice and seen steam at the Martian equator. That hot water/warm water area is pretty prime environment for bacterial life, which is pretty exciting." And it's in that very environment where future astrobiologist Carson wants to be. "We have such big ideas to colonize Mars, to terraform Mars (in theory, transforming Mars to make it habitable for plants, animals and humans), and we really need people there to truly figure this thing out and figure out how long it's going to take, instead of all of these guesses."

Carson has witnessed three space shuttle launches, attended Space Camp seven times (including the programs in Turkey and Canada), and attended the prestigious Advanced PoSSUM (Project Polar Suborbital Science in the Upper Mesosphere) Space Academy at Florida Tech. Plus, she earned her pilot's license at age 18.

The accomplishments of this most-talented teenager are adding up. "Definitely, it's been a dream of mine to want to actually go to Mars, to be on the surface, and it would actually be amazing," offered Carson. "Really, it's what I've been working toward, building the best résumé that I can to be the best candidate for one of those missions."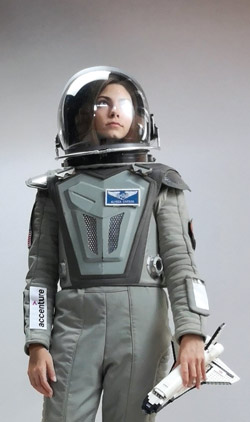 But even with an impressive résumé, and even with a number of connections, it's not unusual for Carson to occasionally feel the need to let space industry professionals know she's serious about this. 'I'm an aspiring astronaut' is something I'm sure they hear all the time," she laughed. "So it's very nice to be able to throw some big words at them and say, 'Well, actually, I've been involved in the development of a spacesuit or working underwater on gravity offset walls'. That's when they start listening and ask things like, 'Who are you? How are you doing those things?'"

Carson is the first person to complete NASA's "Passport to Explore Space" program, visiting all of NASA's 14 visitor centers and space shuttle locations, having her "passport" stamped at each location with a NASA commemorative stamp. Recognizing her interests and for completing the program, NASA funded a trip to the National Air and Space Museum of the Smithsonian Institution where she joined one of two panels to discuss a future Mars mission. In an interview with "X-Press" (NASA Armstrong Flight Research Center newsletter) Editor Jay Levine, Carson said, "I sat on the panel with three PhDs and an astronaut. It was a good experience to hear their insights on a Mars mission and their experience from the fields they represented. It was a lot of fun."

She's become a bit of a celebrity, and with a drive and maturity that belies her age, it should come as no surprise that corporate sponsors like Nike, Oil of Olay and SodaStream have supported her efforts and the pursuit of her dream. Carson was chosen for Nike's Space to Dream campaign (promoting the new Air Max 2090 shoe), Oil of Olay's Face the STEM Gap campaign, and was featured in a SodaStream ad about astronauts finding water on Mars. "When those brands want to talk to you about space, I'm all for it. That's when you're really going to get the general public to pay attention and listen."

Getting the public to listen. That, says Carson, brings up one of the major hurdles facing the entire space industry. "When we were going to the moon, we had JFK saying we were going to go, and then everyone wanted us to go to the moon. We had competition with Russia. We had a lot of factors that were driving us, motivating us to get there quickly, to do it, to accomplish it. And with a mission to Mars, we don't have a lot of that."

"But now," she continued, "there's so much hype around Mars, and with that, I think we're going to have that public interest. So now, we're at the point where my people are saying, 'Matt Damon went to Mars (referring to the movie "The Martian"), why can't we?'"

She's halfway through her sophomore year at Florida Tech. "This semester it's differential equations. microbiology. science and technical communications. And don't forget modern physics," she said. After graduation with the Class of 2023, Carson has her sights set on a master's degree. "At the International Space University in Strasbourg, France, there's kind of an accelerated master's program that's pretty intensive," she explained. "But the school is amazing; they've done a lot of collaboration with NASA and other space entities." And the other reason? "You have to have a masters to apply to the astronaut selection process," she smiled.
Inspiring Others
And so, at the ripe old age of 19, Alyssa Carson is a role model to young people all around the world. "I think it has been pretty crazy to step into that role," she laughed. Yet, at the same time, Carson also realizes her journey presents her with a golden opportunity to — both figuratively and literally — transcend the boundaries of space.

As for inspiring other young people, "I'd love for them to want to go into the space industry," admitted Carson, "but I let them know that really all of this applies to following their dreams. No matter what they are."