New Orleans native George Oldenberg moved to Lafayette to attend USL (now University of Louisiana Lafayette) and never went back. After 21 years in banking, he left his career in 2002 and bought Zoosiana in Broussard, La., one of a handful of privately-owned zoos in the U.S. "It's a labor of love," he gushes.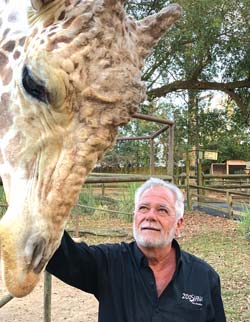 It certainly is. Every day at 5 a.m., Oldenberg begins his day bottle-feeding his babies, including six month-old lion cubs Cypress and Magnolia, and six week-old leucistic (white) tigers Mitchell and Michael, named after his sons who attended LSU. Son Matthew is now the zoo's general manager. "I had a great job at the bank, but I didn't have a lot of time to spend with my kids," Oldenberg reveals. "I like being outdoors, I like animals and I wanted to spend more quality time with my boys. Those times, I could never regain. It has been awesome."
When Oldenberg appears, the feline cubs rush to the gate, making chuffing sounds. With young animals, Odenberg usually feeds them himself. "I enjoy doing that," he says. "You bond with them." These magnificent mammals are so adorable that it's hard to believe they will grow to over 300 pounds in three years — and will no longer be so approachable. He also has a melanistic (black) leopard (panther) named Onyx, whose spots become visible in the sunlight, and a couple of clouded leopards named Cirrus and Cumulus.
Another new baby is giraffe, Millie, who hangs around with big sister Josie and Gabriel, their 17-foot-tall, affectionate dad who loves to give sloppy kisses. Oldenberg got Gabriel when he was seven months old and slept in the barn with him for a week. Currently under construction is a giant giraffe barn, nursery and herd stall.
Birds and Beasts
Exotic birds are everywhere, including rheas, pheasants, toucans, macaws, parrots, parakeets that you can feed (and will land on you), cockatoos that whistle, talk and dance, a Eurasian eagle-owl and crown cranes — incubated and hatched by Oldenberg. Peacocks — including rare white ones — roost atop a 400-plus-year-old oak tree.
Zoosiana houses over 1200 animals and about 150 different kinds. Among guest favorites are the monkeys, including spider monkeys, capuchins and golden head tamarinds. Oldenberg imprinted with a monkey — Amanda Claire (AC), named after a zookeeper, who plays peek-a-boo with him. Neighbors include brown, ring-tailed, red ruffed and black-and-white ruffed lemurs, which bark like dogs. A marmoset couple tends to two babies who live in a tiny house made by Oldenberg. You can also spot a binturong (bearcat) hanging by its tail and African red river hogs, Harley and Davidson.
In the back is a petting zoo with goats, chickens and other small animals. There's also a reptile house with non-venomous snakes, turtles and lizards. Take a ride through hoof stock area, where you'll feel like you're on safari.
More In Store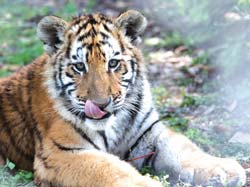 When Oldenberg purchased the zoo, it was about 10 years old. He built many structures himself, including the wheel and wagon at Jungle George's Good Timing Gem Mining, where patrons can purchase a bag of rocks and put them through a sifter — just like the gold miners did.
At the entrance is an event building, the Bamboo Room, with a beautiful bar built by Oldenberg himself, round tables with chairs, warming kitchen area, buffet station, piano and dance floor. Holding up to 175 guests, the flexible space accommodates events from meetings to weddings (say "I do" at the zoo!).
Oldenberg has a staff of 35 employees in guest services, concessions and the train depot. Over the years, he has made changes — some unexpected. Three years ago, a fire occurred at the depot, burning the train and depot facility to the ground. Miraculously, the St. Francis of Assisi statue remained intact, and is now the centerpiece of a tranquil garden. The bright blue and yellow choo-choo, along with the concession stand and playground, has been totally rebuilt, and the entire road totally re-blacktopped. Coming this spring is a Tiffany carousel imported from Italy, new zebras and a male camel.
Though the zoo has been through rough times, Oldenberg has managed to chug along. "We've always pulled through," Odenberg says. "The zoo is, in my opinion, an asset to the community."