Motorsports fans with the need for speed can head to NOLA Motorsports Park in Avondale to witness adrenaline pumping stock car racing or even get behind the wheel of their own go-kart at top speed. Touted as the "premier racing venue in the greater New Orleans area," the park offers a 2.75-mile main track as well as a world-class karting facility on 30 acres, 32,000 square-foot event center, 720,000-square-foot paddock, speed shop, and 44 RV hookups with power and water.
Although it's been around since 2011, the park recently underwent repairs and upgrades to enhance user experience and allow the facility to retain its designation as a world-class racecourse.
"We revealed several repair initiatives that continue to make us a premier racing venue," General Manager David Pace said. I've seen firsthand the camaraderie and excitement motorsports can bring. I wanted to position NOLA Motorsports Park as a cornerstone in the community."
RECENT UPGRADES AND REPAIRS:
Earlier this year, significant renovations were made to the grounds, paddock areas, tracks, and internal systems. This included repaving the entire straightaway and several turns to eliminate raised bumps and re-sloping to minimize standing water that accumulates during heavy rainfall. The facility also purchased new karts, updated the lobby and rooftop dining area, and created a new viewing area on the north side of the track.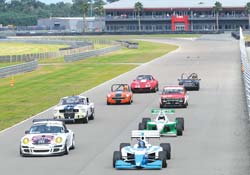 "When new management came in, some of the biggest feedback we got from teams and drivers was that the track was bumpy and undrivable. So, our first line of business was to get those repairs done on the racetrack. We put new asphalt in, and we ground a lot of the bumps from turn 16 to turn one and then again at turn four through turn eight," Director of Marketing and Events Erin Grosclose said.
She noted the upgrades also included drainage work and enhanced spectator areas.
"We had a big issue with the track becoming undrivable when it rained. "The track was so bumpy because the ground it sits on is swampland. When we take the bumps out, that helps pro drivers get around the track without wrecking out. No one wants to come to a track they can't drive, and drainage was a big issue because we have so much rain. As a race car driver, you should be able to drive in the rain, and that was becoming impossible. These fixes really help us in that aspect."
Grosclose said they added a new grass berm or general admission area and a 1,000-person grandstand to address the past lack of viewing spaces that plagued fans.
"The viewing areas were limited, and one of our goals was to start putting in new spots around the track so it was not just one flat view of one turn," she said. "Now, fans can see all the angles. We have 16 turns out there but only had eyesight for four to five of those from the event center. Adding those grass berms gives you a view of many more turns."
Grosclose said a walking path around the back area of the track, expansion of the grass berm, and a 12-mile off-road ATV course are also in the works in the next two to three years.
"Once we put in the walking path, that will provide fans a whole new view of the track."
PARK FEATURES:
The park's main track touts a 16-turn road course with a 5,800-foot straightaway that meets FIA Grade 2 standards. "With our FIA Grade 2 license, we can go for higher levels of racing," she said. "We can attract some of the top levels which really benefits our fans here. They get to see better, bigger racing. And it's a safety standard also and shows that we have achieved that."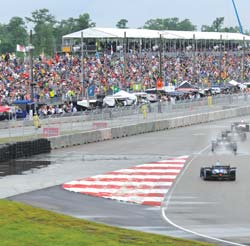 Hailed as the "fastest track in the South," the karting facility features 30 acres of track with over 80 configurations. It's open to the public and available for private events.
"We are an arrive and drive so anyone can show up during our open hours to rent one of our go-karts and do heats. This really appeals to tourists. We host parties where groups can get a private space and race each other. And, we have sprint car racing and a go-kart racing series where groups come and execute exactly what the cars do on the big track."
This skidpad feature is open to the public but is used mainly by manufacturers and drifting groups to hone their driving skills and techniques. "It's an autocross so you can put cones up and do different exercises in preparation for the main track. You can put water down on it and do those types of techniques. The Jefferson Parish Sheriff's Office comes out and does pursuit training here," Groseclose said.
There is also a two-story speed shop featuring a vintage Porsche showroom floor, mechanic shop, and private rental space that overlooks the track and showroom, as well as a 20,000-square feet separate event space on site.
Motorsports Popularity and Prime Location
"Overall, in the U.S., Nascar has always been very popular and Indy car is growing. Now you have shows like Formula 1: Drive to Survive that I believe is making a mass appeal right now," Grosclose said.
And while NOLA Motorsports Park can cash in on the sport's popularity in America, it also has the advantage of being so close to New Orleans, which was ranked as the #2 city for travel in the U.S. in 2022 by Travel & Leisure magazine.
Grosclose explained that the closest comparable racetracks are Barber Motorsports Park outside Birmingham, Circuit of the Americas in Austin, and Sebring Raceway in Florida.
"We're in a really good place being right outside New Orleans and the fact that it's a top U.S. tourist destination," she said. "We have something for everyone. Our karting facility is always going to appeal to the tourist side and it's a huge part of our business.
"With the racing series, they love coming to areas like ours because they can go out after the races. It's a fun city. They can host sponsors and manufacturers and take them to dinner or do other fun things. I think that's what we have to offer here. People drive from Texas to Florida and we're right there in the middle of that drive. I think that's where we can capture a lot of people," she said.