From Lake Charles to Kinder and back again, golfers wishing to test themselves against some of the South's best courses have numerous options. Three immediately come to mind, and each member of this links-themed trio has its own personality, its own challenges and its reason to crow a bit.
Southwest Louisiana has some great golf courses. With us, L'Auberge and Coushatta, any group could play for days on top-ranked courses." — John Hurt, head professional at The Country Club at Golden Nugget
THE COUNTRY CLUB AT GOLDEN NUGGET
LAKE CHARLES, LA.

"We're ranked no. 1 in this year's Golfweek ranking of top Louisiana courses," beams John Hurt. "It's a tremendous accolade for our relatively new course, and it definitely helps when you can put 'no. 1' on your advertising."
Located adjacent to the Golden Nugget Casino, the five-and-a-half-year-old course knows its place in the entertainment cosmos of its resort, and proximity and accessibility are key buzzwords. "Our guests can leave their rooms 10 minutes before their scheduled tee times and have plenty of time to start," explains Hurt.
"I've been told that we're the only destination that has two courses within walking distance of the casino resort." And with golf, 12 restaurants, a pool, spa and casino, guests never have to leave the resort.
Their lofty Golfweek ranking becomes even more notable when you consider that 2020's Hurricane Laura forced the removal of nearly 400 trees on the course. "Laura forced us into renovating our bunkers," adds Hurt. "While the golf course isn't considered long by today's standards (7,000 yards from the back tees), the almost daily wind makes it challenging for golfers of all skill levels."
Hurt says those wind and tree factors make The Country Club a true 'links-style course.' "We're different from most Louisiana courses because we're situated on the Calcasieu River, and five holes border the water."
"To have such fabulous golf courses so connected to a city of 100,000 people is pretty amazing. Right here, on nearly any given day, they can come out play one of the finest courses around." — Tim Jaquez, head professional at Koasati Pines Golf Course at Coushatta Casino Resort.
KOASATI PINES GOLF COURSE AT COUSHATTA CASINO RESORT
KINDER, LA.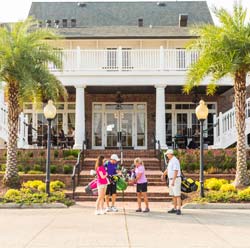 From the outset, it's clear you're on a world-class golf course; and just when you think you're about to finish, that's when Koasati Pines adds something extra-special.
"We have a very unique 19th hole," smiles Jaquez. "Once you finish your 18th, we give you one more. It's a little par three, 130-yard 'Gambling Hole' we call it, with an absolutely beautiful island green, which provides an absolutely special ending to your round."
Owned by the Coushatta Tribe in Kinder, La., Jaquez calls Koasati Pines "… a hidden jewel in the middle of nowhere." But 'nowhere' is roughly only 40 miles from Lake Charles and plays host to 20,000 rounds of golf each year. "We're the second longest golf course in Louisiana at 7,600 yards. With six sets of tees, it can be as hard or as easy as you'd like."
The 65 acres of gently rolling terrain, dotted with looking glass lakes, are meticulously manicured and maintained — and that, says Jaquez, helps Koasati Pines stand out from the rest. "We've always been a Top 5 course in Louisiana and spare no expense in the upkeep. Our staff takes great pride when they bring any guest from the casino to the course."
"You want to do a local trip to the Lake Charles area, and there's a wide variety of stuff to do. You want golf? We've got three great golf courses within 40 miles of each other." — Scott Davey, director of golf, Contraband Country Club at L'Auberge Casino Resort Lake Charles.
CONTRABAND COUNTRY CLUB AT L'AUBERGE CASINO RESORT
LAKE CHARLES, LA.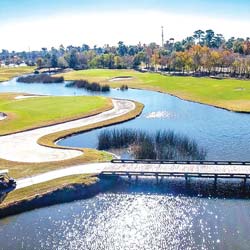 Lake Charles, by its very geographic location, has been historically a huge draw for residents of southeast Texas, particularly Houston. "We're now getting more people from the Austin area and the panhandle," says Davey, "and they come back. You come to our place, you're family. And we're not just looking at numbers and pushing people through turnstiles."
Davey recognizes that Contraband is, in terms of the big picture, an amenity to the resort, and he also knows that he oversees a true golfing gem. "It's a great little scenic course, not tricked up. The greens are pretty flat and what you see is what you get, which makes it very playable." But what about the holes that are usually deemed 'playable'? "Well," laughs Davey, "our par 3s are really, really tough!"
Modern technology — namely golf carts with GPS systems (that will have newer longer-lasting lithium batteries in place this spring) — helps Davey and his staff control the pace of play. "We can send messages like, 'Hey, let the group behind you play through' or 'Please pick up the pace,' and we can spotlight sponsors for the many charitable events we hold."
But to Davey, it all comes back to combining first-class customer service with a first-class golf course. "You make someone's day, that means the world to them."