What did I want to be when I was young?" laughs Dustin Poirier. There's a bit of a prolonged pause from the other end of the phone. "I'm not sure. I just wanted to provide a life for myself, so that I'd be comfortable. I didn't have any crazy, big dreams." But then there's another pause. "Although I think when I was really young," he concludes, "I probably just wanted to play football."
Now, the argument could be made that his chosen profession isn't that far from what happens on the gridiron. But that clearly wasn't his chosen path and, truth be told, one can hardly argue with his decision.
The UFC's top-ranked fighter in the lightweight division rankings then continues his visit to the past as a boy growing up in Lafayette.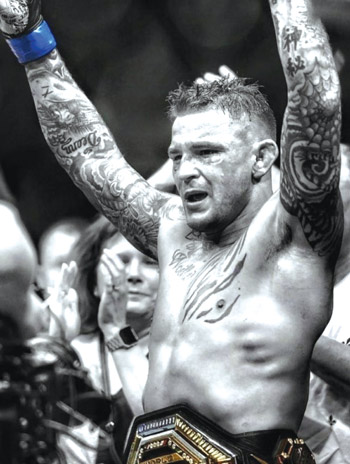 "I wrestled when I was 10 years old, then I wanted to box around 2006, 2007. Mixed martial arts wasn't yet the rage it is now, and there were very few places to train. But then … " You can almost feel Poirier's smile coming over the phone. "… I met some guys," he says. "And they told me about a local gym." Visiting that local gym – and no doubt a number of gyms after that – has paid off.
He is now, as his ranking will tell you, as formidable as they come. And opponents should know what they're about to face. "If I'm the other guy, and I'm about to face me, Dustin Poirier," he begins. "Then I need to be aware that Dustin Poirier is a blood-and-guts, get it done by any means necessary fighter."
Just that very statement reiterates an athleticism that also brings to mind the following words: Relentless. Unceasing. Resourceful.
"Anytime I fight, you're going to get a show. Longtime fans know I'm going to do everything in my power – and do whatever I can – to be victorious." Poirier is a confident fighter, too. And after years of being counted out, he trusts no one … more than himself. "Whether it's fighting or business or just day-to-day life, I find I can trust myself to get through anything," he says bluntly. "I know I can pull through, and I have the attributes to make things happen."
Since turning pro in 2009, Poirier is 27-6-0 as a fighter, and a TKO over Conor McGregor in January of this year is the latest highlight in a career full of highlights.
If he could go back in time, I ask the 32-year-old, what would he tell a younger version of himself? "I probably would do things the same," he theorizes, "and I'd tell myself to strap yourself in for the highest of highs and the lowest of lows."
It's a great life; it's paid in full. Nobody rides for free, and what a ride it is.
— Dustin Poirier, professional mixed martial artist and Lafayette native
But none of that means Poirier carries with him any major regrets. "Everything that's happened to me I consider as life lessons on how to deal with things. It's taken me years to get to this place in life, and I'm still learning. My best advice to a younger 'me'? Just stay on the path."
Does that mean he's OK with those seven losses? "Every loss is one I'd like to have back; but you know, it is what it is. Once a fight is over, once the bell rings, you can't do anything about it. Those are all life lessons." And those are life lessons Dustin Poirier would like to share with his 5-year-old daughter "very much so," he says.
"You know, I'm just grateful for where I am, man. But at the same time, I want to instill in her an awareness of this sort of balance that life brings you. While I don't want her to ever embrace and be OK with losing, I do want her to understand that those challenges are necessary parts of molding and shaping who a person is."
"When one door closes, another one opens. But when that next door opens, you've got to be ready to work, you've got to be ready to get up and keep moving. I want her to know that."
Being a parent – along with Jolie, his wife of 11 years – is an absolute joy. "Absolutely incredible," smiles Poirier. "I am loving every single day of being a dad and getting to watch her grow. What an incredible journey."
And he wants his child to have a sense of family, of the south Louisiana culture, of home. "That's one of the big reasons we moved from south Florida and returned to Acadiana. We want her to be raised around her grandparents and have a respect for family and our culture." I ask him if his daughter is aware of his celebrity-status in Acadiana, if she knows that her father is somebody famous."She sees people come up, take pictures with me and ask for autographs. But she's unfazed by it because, from her very first day on the planet, she was born into it."
And those aforementioned fans? "I honestly appreciate them and know what gifts they are to me. I'm still in awe that all of this is happening." Something else that is happening is the growth of Poirier's Good Fight Foundation. Starting the foundation wasn't planned at all.
"When Officer (Michael) Middlebrook of the Lafayette Police Department was killed just down the street in 2017, Jolie and I looked at all of this stuff – gloves and shorts and things I'd accumulated from all my fights – and we thought, 'Maybe we can auction some of this off and donate the proceeds to the family.'" He's proud to say the Good Fight Foundation has taken off from there. "It adds more weight if I can fight for a cause."
So, how much longer will he keep fighting? "I've always said I was going to fight until I was 35 years old, and I won't fight past that age," he says quickly. There are business ventures, such as real estate and a little something called Poirier's Louisiana Hot Sauce quickly coming his way. Although, for now, his fighting career (including another victory over McGregor in July of this year) remains on the front burner. "I can't focus too much on 'Plan B' because it takes me from 'Plan A'."
It's refreshing discussing life with Dustin Poirier, hearing his thoughts on where we all are and how every step (and misstep) is just part of the process. There are … no regrets.