Ten years ago, my brother talked me into going on a surf trip to Nicaragua with his son. I hadn't surfed in over 25 years and knew going in that any skills involved were long forgotten. What wasn't forgotten was the "stoke" that one feels — that's surfer lingo for excitement — when they have surfed with friends and family and make lasting memories. At the end of that trip, I realized a few things. I now know where Nicaragua is located. I realized how out of shape I was. And, I realized I would be going back.
That first trip turned into an annual sojourn to Surfari Charters. Surfari is owned and operated by Lance and Kristin Moss. Their all-inclusive camp takes up to eight guests per week and is located directly on the Pacific Ocean. The well-trained staff and guides leave you wanting for nothing. After a three-hour flight from Houston, they wait for us with extended arms holding an ice cold drink. We are driven to the coast and checked in to the oceanfront accommodations, and the stoke of what is to come over the next seven days begins to set in.
Most of the visitors to Surfari Charters go for the surfing. Nicaragua's Pacific coast faces the southern hemisphere and from April through November, receives waves that have traveled thousands of miles from storms born off the coast of Australia. With consistent offshore winds, the swells are groomed into epic conditions that attract surfers from all over the world.
As much as I love surfing, I don't get to enjoy it often, living in Louisiana. Preparing for the yearly trip involves lots of gym time, yoga and pool work — paddling and breath-holding techniques. It's all worth it however, because the chances of catching the wave of a lifetime is very likely with Nicaragua's ideal conditions. And knowing that keeps me coming back.
In addition to the world class surf, the country offers unbelievable fishing, which I look forward to just as much as surfing. Unlike the gulf coast, where you have to travel considerable distances to find blue water, you can fish right off Nicaragua's rocky coastline for rooster fish, grouper, snapper and mackerel. Pushing offshore just a few miles, you can also catch sailfish, blue and black marlin, wahoo, tuna and mahi-mahi.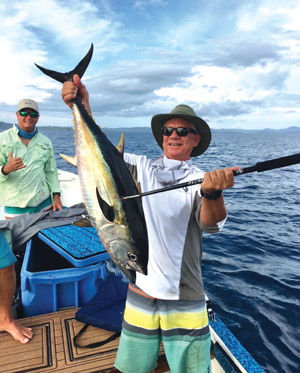 A day in Nicaragua at Surfari Charters will go one of two ways. After a 5 a.m. wake-up call, Nicaraguan coffee and fresh fruit await you outside on the porch overlooking the ocean. An early surf can be had by those frothing to catch a glassy barrel right out in front of their friends. During this morning session, it's determined which four guests will go in the boat (va Pue is a 25-foot panga that is rigged out to the nines) and which four will stay on land searching for the perfect wave. The boat charter will load up boards, rods, food, snacks, drinks and beer that will last until sunset. Surf spots are checked until the tides, wind and swell direction dictate the morning surf spot. Once surfed out, over the course of two to three hours, it's time for lunch on the boat, followed by a push out to sea to fish. The captain is flexible to accommodate whatever interests the guests. If more surfing is desired, then so be it. If folks are surfed out and want to fish, then fishing it is.
The other four guests who stayed back are fed a hot, fresh breakfast before being loaded up in 4-wheel drive trucks that are driven up and down the coast looking for the best waves Central America has to offer. The trucks are also loaded with food and drink to last all day.
As the day comes to an end, everyone meets back at base camp to reflect on the day's events, while enjoying an adult beverage and sharing a sunset that will be burned into your memory forever.
And for the next six days, it's "rinse and repeat."
Needless to say, COVID-19 broke my string of nine straight years of traveling to Nicaragua. But 2021 is scheduled, and the stoke is building. Let the training begin.
For more information on Surfari Charters, visit them at surfaricharters.com.