Dr. Bryan Maggard was named to the position of Athletics Director of the Louisiana Ragin' Cajuns in March 2017. He had spent over 20 years as an associate athletics director at the University of Missouri and helped oversee that school's transition from the Big 12 Conference to the Southeastern Conference. And, for the first year and a half at University of Louisiana, he put plans in place, hiring a staff and getting a company to handle the school's multimedia advertising. He also made his first coaching hire, tabbing Arizona State Offensive Coordinator Billy Napier to take over the football program.
So far, so good.
But late in 2018, a series of events occurred that had nothing to do with the job description that was in his contract. It began with a health challenge involving his wife, Kerry. "I had just had a mammogram a couple of weeks before," Kerry said. "But I felt what I thought was a lump in my breast. I called and spoke to the nurse. She suggested I go in for an ultrasound." After the ultrasound and biopsy, the word came back. Kerry Maggard had breast cancer.
There were times I didn't know if I'd get through it. And she said 'yes, you can…and yes, you will.'
"We were hosting the soccer team at our house," Bryan said. "And Kerry just put a smile on her face and was the perfect hostess, and I know that wasn't easy for her." "I got them fed," Kerry said, "and then I went and walked around the neighborhood pond and cried for a couple of hours."
Cancer wasn't a foreign word to the Maggards. Bryan had a bout with testicular cancer 20 years prior, when their three children, Dalton, Aubrey and Kaylin were ages seven, five and three. Ironically, in December the Cajuns football team was selected to play in the Cure Bowl, a game tied to breast cancer research, in Orlando, Fla. After a November lumpectomy, Bryan and Kerry went to the bowl game, where Kerry went public about her cancer.
"God gave us a story," Kerry said. "It was a lot to handle at that time. I may have looked strong, but behind closed doors I wasn't always that way." After radiation treatments in January, Kerry was pronounced cancer-free. Through it all, Bryan was at her side offering support and encouragement.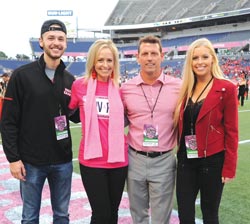 "You know when you have to be the strong one," Bryan said. "When we were home, I just wanted to be with her. I never felt like I had to have that time for myself. I'm a worrier by nature, and I learned from the experience."
Two months later, a series of events rocked the Cajuns' athletic department, and it was Bryan's turn to face adversity. And it was Kerry's turn to offer support. It began with an early morning phone call in January 2019. "I had gotten a workout in and was getting out of the shower. Kerry walked in and said (softball coach) Gerry (Glasco) was on the phone. Now early morning conversations between us weren't unusual. We are both very early risers."
But it was a phone call like none other. Gerry broke the news that his daughter, Geri Ann, who had just joined her father's staff as a volunteer assistant, had been killed in an automobile accident on Interstate 10. "I figuratively dropped to my knees," Bryan said. "There was brief shock, then I just had to go into leader mode. The toughest part for me was having to re-live the breaking news. I had to call (UL President) Dr. (Joe) Savoie. I had to meet with the staff and student-athletes. And, I had a visit with Vickie (Gerry's wife). It was a brutal day."
And, as parents, Bryan and Kerry had to put themselves in the shoes of their friends. "Geri-Ann was the same age as Dalton," Kerry remarked. Exhausted, Bryan continued to do everything he could. "You work off adrenaline," he said.
In March 2019, the long-time equipment manager, Lynn Williams, passed as well. "Lynn and I had a kindred spirit because as a student (at Kansas State), I worked in the equipment room," Bryan said. "Lynn was a kind soul. He felt everyone had value as a person and treated them accordingly. He loved everyone."
Then on July 3, the Cajuns' beloved baseball coach Tony Robichaux passed away after suffering a heart attack the week before. That one hit Bryan the hardest. "I knew him so well. Justin (Tony's son, recently hired by Gerry Glasco as an assistant coach) was my contact and kept me informed. We crafted a message when the decision was made to transfer Tony to Ochsner in New Orleans. But when he passed away, I again had to compartmentalize, had to coordinate meetings, had to relive it more than once. I had to be the administrator. Then I had to go out and find a baseball coach."
know if he'd get through it. But Kerry's response of encouragement was simple. And direct. "Yes, you can. And yes, you will."
Matt Deggs, who spent more than two years as Tony's assistant before becoming head coach at Sam Houston State, was Bryan's choice. But the nights leading to that decision were tough on both of the Maggards. "Everything I go through, she goes through," Bryan said. "And vice versa," added Kerry.
On July 17, in an emotional press conference, Bryan got up to introduce Coach Deggs. He started thanking those who had helped in the journey. When he got to Kerry, the façade
crumbled. He paused to compose himself. The words came, haltingly. "I owe you some quality time," he said. They left the next day for North Carolina and did just that.
Since then, the athletic department managed to navigate the loss of assistant football coach, D.J. Looney, who died on the football field at age 31 of a heart attack. The COVID-19 pandemic was a huge challenge. The football team finished the 2020 season ranked 15th in the country. And, again, Kerry has been right by Bryan's side.
"Her heart is as pure as anyone I've ever known," Bryan said. "She's loving. She's caring. She's all about family. You know she's always going to be there." "He's my rock. He's our family's rock," Kerry said. "If one of us needs something, he's there. If he's in a meeting, he'll step out and call if we need him. He works hard, but it's family first."
After 30 years of marriage, the Maggards know when adversity comes, they'll face it.
Together.