Nash Barreca is the real deal. He's been in the restaurant business for 54 years, starting at his grandfather's circa 1944 restaurant, Frank's Steakhouse, located on Freret Street in New Orleans. Barreca's great-grandfather came from Italy to the United States in the 1880s, and his grandparents were fluent in Italian. "They spoke it whenever they didn't want the grandkids to know what they were saying," Nash recalls with a laugh.
At age 12, Nash reluctantly started working with his father at Frank's. "Growing up, I always loved riding my bike around uptown New Orleans," he recalls. "My dad told me, 'Put that bike away!' And I started washing dishes."
Though Nash never went to culinary school, he had cooking in his blood. He learned all of his Italian family's recipes and also got secret tips from his grandfather's longtime cooks – Bessie, Sam and Eloise. "Each one of them taught me something," he shares fondly.
After his grandfather's death, Nash's brother, David, opened Barreca's in Metairie. It was there that Nash honed his cooking skills.
THERE'S A PLACE FOR US
In the early 1980s, Nash made a career change to offshore catering. It was there that he met his wife Jenny, a Marksville, La. native. While courting, Nash brought Jenny for a special date at Viva La Difference, located in an historic circa 1908 Victorian house in Broussard.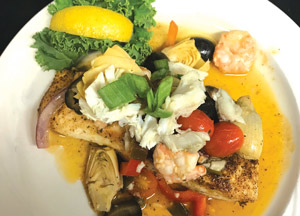 Following the oil bust, Nash returned to New Orleans to work for his father. But he and Jenny decided that they wanted to open their own place, so they started scouting locations in Broussard, where her grandparents lived. They discovered that the house where they'd shared their memorable date night was available. So, on July 27, 1999, they purchased their dream property. "We never thought we would own it," Barreca confides. "We were both scared."
After some major cleanup and refurbishing of the bar – the house had been vacant for over a year – the Barrecas opened Nash's on Oct. 5, 1999. Borrowing from his brother's restaurant, Nash developed his menu with a lot of his family Italian recipes, including his grandmother, Josie Gallo's, marinara sauce. He also added steaks – a nod to his grandfather's legacy at Frank's.
Nash's also offers dishes that aren't offered elsewhere in the area. When available, Barreca has live Maine lobsters in the tank (call first to reserve) and authentic turtle soup – served with real, not mock, turtle. He hand-selects his lump crabmeat and serves the freshest fish available, like sea bass, Mediterranean halibut and Arctic char. "We try our best to get everything fresh," he promises.
Look on the board for daily specials including Jenny's special salads at lunchtime and appetizers – a recent offering was Stuffed Vegan Portobello Mushrooms with a Ginger-Balsamic Reduction on a bed of spaghetti squash.
But if your favorite dish isn't on the menu, don't despair. "Our policy always was — and we still stand by it — if we've got the ingredients in the kitchen, we'll make it for you," Barreca says.
Customer favorites include Veal Orleans, baby veal grilled in olive oil, topped with fresh grilled asparagus and jumbo lump crabmeat in a light cream sauce (a ladies' favorite); the Veal and Spinach Cannelloni, homemade shells (Nash makes his own) stuffed with fresh spinach and ground veal cooked in olive oil with parmesan and ricotta cheese, topped with marinara sauce; and Osso Buco (gentlemen's preference), a two-inch-thick veal shank braised in olive oil, veal stock, onion, garlic, tomato, carrot, celery and mushrooms cooked for three hours until fork-tender.
All salad dressings are made in house – try the Italian Wop Salad for a traditional treat. And save room for dessert – crème brulée, bread pudding and Bananas Foster sauce are to die for.
Nash's elegant atmosphere makes it the perfect setting for a special occasion, but it's still casual enough for drop-in dining. The beautiful glassed-in porch overlooking the old oak trees – one split during Hurricane Laura – is popular with patrons. Inside the dining rooms, you'll find antiques and photos original to the home and a few surprises – rumor has it that the house is haunted!
What is Nash's key to longevity? "My employees are very outgoing, friendly and make you feel like you're at home," Barreca shares. "We just like to have a good time and cut up with our customers if we can."
Nash's houses several dining rooms for private events, including business lunches, bridal luncheons, rehearsal dinners and intimate wedding receptions. Hours are Tuesday through Thursday from 11 a.m. to 2 p.m. and 5 p.m. to 9 p.m., Friday 11 a.m. to 3 p.m. and 5 p.m. to 10 p.m., and Saturday from 4:30 to 10 p.m.