Tailgating season has arrived in Southwest Louisiana. And if you know anything about tailgating, it means not only great football games and the company of friends, but lots of delicious food and drinks. You also know that cheering for your favorite team, be it UL, LSU, or another, can get heated — and so can the weather!
Frozen drink pouches make things easier and more convenient with frozen drink pouches from Market Eatz, located at 819 E. Broussard Road in Broussard in the McLain Marketplace, past the new roundabout off of Kaliste Saloom Road.
[The frozen drinks] are resealable adult juice boxes.
Driving the short distance from Lafayette to Market Eatz will acquaint you with their inventive idea of frozen drinks available for take-out in resealable bags. The drinks themselves are all made in-house and offered in four flavors: Juju's Margarita, Frosé, Bellini, and Kosmo. They come in three sizes, but let's be honest – if you want to get some for tailgating, you want the largest size. The small bag is $10, the quarts are $20, and the gallons are $60.
According to General Manager Seth Aymond, "They are resealable adult juice boxes." As for the alcohol level, Aymond says, "They are definitely strong enough to have a great time at the
beach or poolside, and especially while tailgating."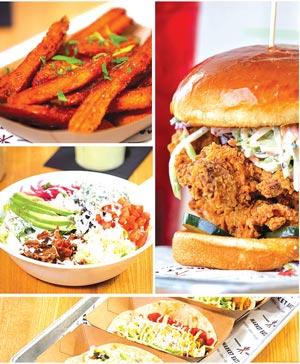 If you want to try out the tempting frozen flavors but don't need large amounts, Aymond says, "We also started making our own 'boozy popsicles' which have also been a big hit this summer."
Market Eatz also has a full food menu, and you can choose dine-in or take-out options for both food and drinks. In addition to their signature frozen drinks, they also offer other cocktails plus a generous beer menu. As always, drink responsibly, and don't drink and drive.
Owners Sylvia and Bryan McLain invite customers to discover everything they offer. Learn more at marketeatz.com or by phone at 337-565-EATZ.