STAR-STUDDED CHEF
Working his way up from dishwasher to restaurant owner at iMonelli, award-winning Chef Brian Blanchard has served up authentic Italian cuisine and Cajun specialties to loyal Acadiana customers for over 30 years.
Along the way, he drew national attention as one of the Washington DC Mardi Gras Ball's chefs for the Louisiana Live party, cooking crepes and crab cakes for senators, congressmen and other politicos. That led to private dinners at exclusive duck camps, where he cooked for former Vice President Dick Cheney and rock star Ted Nugent.
"They were blown away," Blanchard says. "We do all kinds of things for them — crawfish etouffée, fried fish — they go crazy over it. I absolutely get comments thanking us."
During Louisiana's film industry boom, Chef Blanchard catered to the stars, including actors Barbara Hershey, Dennis Quaid and Kathleen Turner. He met Turner while he was cooking on a movie set. "She said, 'Where is that guy that was serving this?'" he recalls. "She came with some people looking for me."
The sense of helping people — it's addictive. When people are appreciative and thankful, it just makes you want to do more. The feeling is so good that you just want to do more.
— Brian Blanchard
After chatting for a while, Turner announced, "I'm coming to your restaurant!" And she did, bringing a celebrity group including Quaid. "She came in here and acted like we were best friends," Blanchard recalls fondly. When singer and actor Frankie Avalon was performing in the area, he dined regularly at iMonelli, preferring his Italian cuisine with a Cajun flair. "Oh, they love it," Blanchard says. "They thoroughly enjoy it."
SERVING IN TIMES OF NEED
But Blanchard also has a charitable side. When the 2016 floods devastated the Acadiana area, Blanchard made po-boys for thousands of affected residents. A local philanthropist got word of his efforts and offered to pay Blanchard's costs to donate even more, feeding over 5,000 families. "We provide good food, good service," he says. "I take care of them."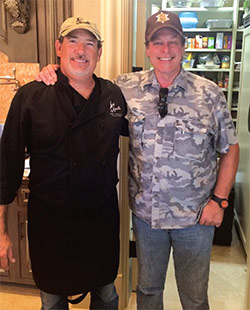 Word got out about his delicious, high-quality disaster-relief meals, leading to companies' hiring Blanchard to provide food for utility workers, first responders and other essential employees. After Hurricane Ida, Blanchard served 150 meals daily in Grand Isle to the Army National Guard, Louisiana Department of Wildlife and Fisheries and local fire and police departments.
Last year, following back-to-back Hurricanes Laura and Delta, Blanchard's staff served 800 workers at just one site in Lake Charles, bouncing between other locations in DeQuincy and Sulphur. At one point after Hurricane Laura, Blanchard slept in his truck for 25 nights.
"When people ask me why I'm the guy out here on these sites, I say, 'Because I like it, it's fun,'" he says. "I like the challenge. I like the thought of going to a new site and trying to figure out how we're going to set it up, how we're going to make it happen. I always find a way. It's pretty cool."
All that work takes lots of coordination. For jobs in Texas, he rented a refrigerated 18-wheeler to use for site relief. He also provides a cook trailer, ice trailer, tents and generators. His staff sleeps in a unit similar to those used offshore.
"I have my main people there, and then people rotating in and out," he says. One of his integral players is cousin Todd Blanchard, a retired engineer who helps him coordinate complicated relief projects. "You have to be organized and have good staff to be able to do it," Blanchard explains.
Despite all the hard work, Blanchard enjoys helping Louisiana's displaced residents and out-of-town workers.
"For me it's enjoyable, figuring it all out, making the pieces of the puzzle work," he explains. "Every day is a different day, and there are different things to deal with, and we do. The sense of helping people — it's addictive. When people are appreciative and thankful, it just makes you want to do more. The feeling is so good that you just want to do more."
WORK–LIFE BALANCE
Besides iMonelli, Blanchard also owns River Oaks catering and event center, and Café JoJo's (named for his mom) in his hometown of Morgan City, NicoBella (named after his son Nicholas and daughter Isabella), and Bay City Bistro. For him, work is fun.
"I could do this every day, it's who I am," he says. "I don't dread coming to work. It's what I do, and it never gets old."