You know how annoying it can be to plan an evening out with friends. You want to go out to eat, but your friend wants to go drinking at a bar. Your other friend wants to hear some live music, and your quirky friend wants to go bowling. How can you possibly decide? You're in luck. Lafayette has welcomed Rock'n'Bowl to our proud roster of entertainment venues, and it's a wacky, novel concept that works well in our wacky, novel city.
What exactly is Rock'n'Bowl? Well, let's see. It's a bowling alley. Wait, no, it's a restaurant. Oh, wait, it's a bar. No, no, no, it's a live music venue. Which is it? Yes.
So how did this interesting combination come about? It was originally the creation of John Blancher in New Orleans. Beginning as a bowling alley that hosted bands in 1988, it had become an important part of the New Orleans music scene by 1993. It was when Blancher began hosting a Zydeco night every Thursday night, however, that things really took off, as it turned out that there was a huge demand for Zydeco music in New Orleans.
Ye Old College Inn, a venerable old restaurant down the street, came up for sale, and after much deliberation, Blancher and his sons decided to buy and try to revitalize it. Through hard work, they managed to make it a successful restaurant and connected it to the bowling alley in 2009. Blancher credits his faith and God's hand in his success.
You will find the fastest bartenders in Lafayette, some of the best food in Lafayette, the best entertainment in Lafayette, and the biggest and best dance floor in Lafayette.
— Rock'n'Bowl Marketing Director
Larry Hamburger Jr.
Our more recent Lafayette edition is an all-in-one place for fun. According to Marketing Director Larry Hamburger Jr., "We are a live music venue and entertainment complex. You will find the fastest bartenders in Lafayette, some of the best food in Lafayette, the best entertainment in Lafayette, and the biggest and best dance floor in Lafayette."
Let's begin with the music. Rock'n'Bowl regularly hosts great music acts. Musicians on the upcoming schedule include Wayne Toups, Geno Delafose & French Rockin' Boogie, Wave Runner, Jonathon Long, Dustin Sonnier & The Wanted, Chubby Carrier & Bayou Swamp Band, and Bag of Donuts. Since the music is live, many patrons love to take advantage of the large dance floor and cut a rug all night long.
If you like drinking the night away, there is a full-service bar staffed with bartenders eager to serve you up something special. If mixed drinks are not your thing, there is also a full list of red, white and sparkling wines, as well as port.
Hungry? Rock'n'Bowl offers an inventive menu of shareable appetizers, flatbreads, burgers, steak-frites and dessert. Some of the shareable dishes include such options as black garlic hummus, and oysters bleu. The muffuletta flatbread is another creative selection. Seeking good old Americana? Try a satisfying double cheeseburger.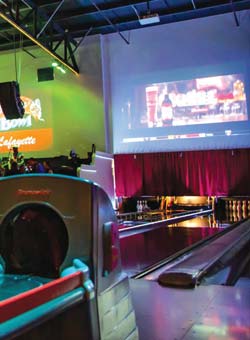 If you want a full-service restaurant experience, take a trip down I-10 to the Crescent City to check out the original location. Ye Olde College Inn there offers dining, with a much larger menu. Start with some crab fritters, pickled and fried okra, or black garlic focaccia, along with several other options. For your main course, enjoy an 8-ounce filet, a local market-choice fish served with lump crabmeat, a pan-seared duck breast, or one of the other tempting offerings. All of the desserts sound delicious, but the fried bread pudding po-boy earned the Best of Show award at the Second Annual Po-Boy Festival.
At both the Lafayette and New Orleans locations, you can pair your food with a custom mixed drink, choose from a solid menu of red, white and sparkling wines, or have a glass of port with your dessert. If alcohol is not your personal preference, you can enjoy any number of non-alcoholic beverage options.
Rock'n'Bowl is, after all, a bowling alley, so be sure not to leave without bowling a few games. A full sixteen lanes means there's always room for more friends, and the prices are reasonable: $25 per hour per lane, with up to six people per lane, and bowling-shoe rental is only one dollar.
It is hard to imagine not finding something fun for everyone at Rock'n'Bowl. Mr. Hamburger summarizes it in this manner: "We are certainly the most unique live music and party venue around. We are the party headquarters as we host birthdays, anniversaries, weddings, rehearsal dinners, business luncheons, conventions, high school and family reunions, holiday parties, and any other event you can think of. [In the] month of December alone, we have hosted 200+ events." Why not check it out on your next night out with friends? Eat, drink, bowl, listen to music, and dance the night away.