Week after week, the grillin' gurus, Keith Guidry and Curt Guillory, bring you their unique brand of delicious entertainment. See what all the buzz is about and get your weekly dose of cooking wisdom, straight from the gurus themselves: Mondays and Wednesdays at 6:30 p.m. or anytime online at kdcg.com and on their Facebook page at facebook.com/cajungrilling.
THE GURUS
Besides being a regional sales manager for BBQGuys, Keith Guidry has a camp on the Texas side of Toledo Bend. If you can't find Keith, you can bet your bottom dollar he's chasing bass. He says bass meat is the freshwater equivalent of lump crab meat. What do you think?
Disguised as a mild-mannered banker working for St. Landry Homestead by day, Curt Guillory is all guru when he's not crunching numbers. Curt is always in pursuit of the perfect brown gravy, and he loves to cook in a black pot on his Cajun Grill. Give him a chuck roast and a couple of hours, then just watch the magic happen!

LIGHT, DELICIOUS GRILLING
This recipe for grilled tuna all but guarantees perfect results. Just remember to
get the freshest tuna available.
The corn recipe is so good that you'll go … well, you get this idea from the name.
Grilled Tuna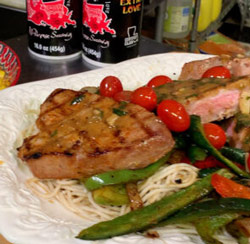 The technique for great, grilled fish has two parts — dried, lightly oiled fish and a hot grill. That's the big secret. Taking as much water off the surface of the flesh will allow the sugars to brown and create great grill marks. This is what releases the fish from the grill without sticking, while adding flavor.
INSTRUCTIONS:
1. Pat fish pieces with paper towels
until dry.
2. Lightly oil the fish.
3. Season with Louisiana Love.
4. Grill over a hot, hardwood fire for
2-3 minutes per side depending on
thickness and desired doneness.
'Corn That Makes You Crazy'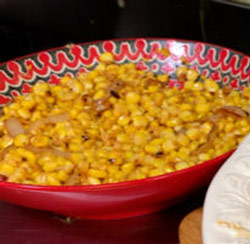 This is easily one of the best corn recipes we have cooked. Grilled corn, caramelized onions, garlic and seasoning all come together to make an incredible side dish that could easily be eaten as a main course … just drop in a few shrimp.
INGREDIENTS:
4 ears of fresh corn (shucked and cleaned)
Olive oil
2 tablespoons butter (unsalted)
1 medium onion (sliced)
3-4 cloves of fresh garlic (roughly chopped)
Louisiana Love Seasoning to taste
METHOD:
1. Lightly oil ears of corn and grill over
medium–high heat until browned.
2. Remove and let cool.
3. Lightly oil and season onions,
sauté in heavy skillet until
caramelized, and remove.
4. Cut kernels from corn into a
medium pot with butter and place
over medium–high heat.
5. Add onions, garlic, and season
with Louisiana Love.
6. Cook until garlic is soft, 7-10 minutes.
7. Taste and adjust seasoning.
8. Stay hungry.