THE LEGACY BEGINS
Since 1934, Don's Seafood has been the go-to place for authentic Cajun cuisine and fresh local seafood. At age 24, Don Landry Sr. originally established the legendary spot as a place to enjoy Cajun dishes and cocktails in the building where his father had operated a butcher shop in downtown Lafayette.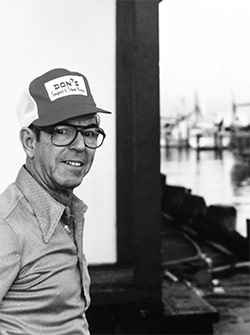 Eventually, it evolved into a restaurant, as Landry himself caught an abundance of Gulf seafood and shared it with his guests. A patron suggested to Landry that he make money on this instead of just giving just giving it away. That idea sparked Don's Seafood Inn, opened by Don Landry Sr. and his brother Ashby in the 1940s.
In order to expand the Inn, Don approached his brother Willie, who was operating their father's butcher shop next door, to become a partner. With expansion came a new name — Don's Seafood and Steakhouse — the first restaurant of its kind in Acadiana.
DON'S ADDS A HUT
Soon, business was booming, and the visionary restaurateur decided to launch a spinoff, Don's Seafood Hut, a nod to its A-frame structure, at the corner of University and Cherry Streets. The Hut began as a drive-thru offering gumbos and po-boys.
Once again, the concept caught on, and Landry decided he needed a larger location. In 1973, he bought the building housing the Blue Hawaiian Restaurant at 4309 Johnston Street, where Don's Seafood remains today.
THE EXPLOSION
Over the past 50 years, the company has evolved into six restaurants, all operated by Don's Seafood Development, LLC, owned by Don Landry II, Tracy Landry (Don Sr.'s youngest son), Dawn Landry LaBorde (Don Sr.'s Granddaughter), Mike Landry (Don Sr.'s nephew), James Hebert, Jacob Allen, Ray Stonemark, Austin Flowers, and Eric Mulina. The popular restaurant has expanded to locations in Denham Springs, Hammond, Metairie, Covington and Gonzales.
From its humble fried seafood beginnings, Don's gradually modernized its menu, using fresh locally-sourced ingredients. It's no accident that "Louisiana" and "Gulf" are prominent descriptors on the menu. "We are proud to say that we serve only local seafood," Don Sr.'s granddaughter, Dawn Landry LaBorde, emphasizes.
And of course, the cozy wood-countered bar — lined with big-screen TVS — is a hit with patrons. Drive by at any time and you'll find customers bellied up at the bar enjoying Don's Classic Old Fashioned and margaritas.
"It's like a 'Cheers' setting," LaBorde describes. There's something for everyone.
REBRANDING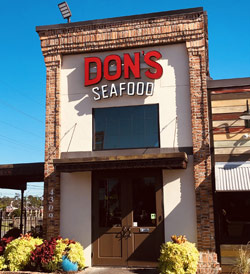 In 2018, Don's Seafood Development, LLC, converted Don's Seafood Hut and Don's Seafood and Steakhouse into one brand, Don's Seafood. Each of its six locations are operated together and have the same menu. "That's what we are so proud of," LaBorde says. "We run them together as one."
SECRET TO SUCCESS
The number one thing at Don's, LaBorde confides, is that "we have fun, and we are a great, big, huge family."
With over 115 employees in Lafayette and 600-plus companywide, Don's is known for treating guests like family. Several employees have been at the Johnston Street location for decades, including third-generation Landry family member/partner LaBorde (35 years), kitchen staff Bessie Hopkins (39) and Wayne Breaux (37 years), Rachel Barry (24 years), Mark Schexnyder (29 years), bartender/server Kevin Small (25 years) and general manager James Hebert (19). Many customers stop by just to have an Old Fashioned, visit with staff and watch the show.
"It's like a 'Cheers' setting," LaBorde describes. There's something for everyone.
Four generations later, Don's legacy continues with family. LaBorde is the only third-generation family member left in the business, but son Trevor is now kitchen manager. "He followed the path like everyone else, starting as a busboy," she says proudly.
FUTURE PLANS
Though Don's has been around almost 90 years, you can always expect changes. "We believe in putting money back into our business," Hebert says. "We take pride in our atmosphere."
Coming soon is a new cookbook featuring Don's classic recipes and a few new items. "We will continue to evolve with the times," Hebert says. "The company is now stronger than ever."
Adds LaBorde, "Our wheels are always turning to continue the success." And in a couple of years, look for the 50th anniversary celebration of Don's Johnston Street location.