Stanley Lerille was ready for a new challenge. He wanted to open a midtown bar. He wanted to do things no one else was doing. "We opened Lafayette's first smoke-free bar, and we were the first to offer a wide selection of 24 beers on tap," he said. Nine years after opening a club in Downtown Lafayette, he sold it. "I really wanted to get out of the downtown area, and I wanted something that would be just a bar," he said. Stanley set his sights on a building at the corner of Johnston St. and Doucet Rd. In 2010, Corner Bar was born.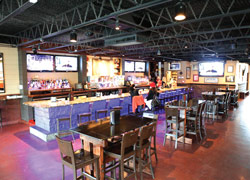 Corner Bar quickly became one of Lafayette's most popular spots. Stanley envisioned it more of a happy hour, after-work place. But he soon found out it was also a popular night spot.
"The nighttime crowd was younger, but upscale. We had doctors and lawyers during the day and then a great hangout spot for younger adults at night. We decided we would never have a cover charge." The concept worked so well, Stanley was approached about opening another location, this time in Youngsville.
"Again, in 2013 there weren't many bars out there. It took only about six months to build a great clientele there." Three years after that, a 6,500 square foot room came available next to the original location and it became an event hall, The Room at Corner Bar. But in March of 2020, everything came to a screeching halt.
I really wanted to get out of the downtown area, and I wanted something that would be just a bar." — Stanley Lerille, owner of Corner Bar of Lafayette
"My wife (Annie) and I had just gotten married and went away for the weekend," Stanley said. "When we got back, we had to shut the bar down. It rocked our world, and we weren't sure what to do. But thanks to the grants and increased unemployment benefits, we were able to keep the managers." That included Stanley's right-hand man, Chris Meilleur, who has been with him for 18 years.
After 192 days, Corner Bar reopened. "We were nervous, but the customers came back right away. We were so happy to see them." Despite the opening of other bars in the city, Corner Bar continues to thrive. Learn more on their website at cornerbarla.com.