Want to know how to get the most out of your grill? Want to know about grilling temperatures, which woods to use, how long to cook that chicken? Be sure to tune in Mondays and Wednesdays at 6:30 p.m. or anytime online at kdcg.com and Facebook.
THE GURUS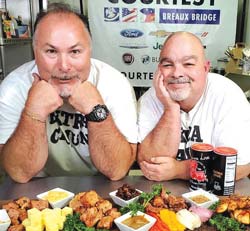 One of Keith's hobbies is making his own fishing lures. No kidding. He turns wood on a lathe, then paints a design that no unsuspecting bass can so no to, mounts the hardware, then lacquers and waterproofs. Do they work? Ask him!
You may know that Curt has his own seasoning brand called Louisiana Love. What you may not know is that he spends almost all of his free time cooking with his seasoning blends trying to make them better. The bonus is he gets to eat the results!
BALLIN' ON A BUDGET
This recipe is the first installment in the Guru's "Ballin' on a Budget" series. Let's face it, it's getting tough for everyone financially. Going to the grocery store is almost horror-movie scary.
Curt and Keith are here to help you make the most out of your food dollars. Their Ballin' on a Budget series will show you how to shop cheap but bring huge flavor.
Recipe: Budget Pork Tenderloin Pasta
Just because food costs are high, and your budget is tight doesn't mean you have to settle for dull, boring food. This pork tenderloin dish is easy to prepare, incredibly affordable, and
smacks you in the mouth with flavor.
The real bonus is that you can transform the dish into a sandwich that's even better than the pasta.
INGREDIENTS:
Olive Oil
2-2½ lbs. pork tenderloin
2-3 large zucchini (cut into 2-inch-thick
rounds)
1 lb. short cut pasta of choice
2 TBSP unsalted butter
1 medium onion (yellow, chopped)
3-4 cloves garlic (chopped)
2 cups chicken stock
2 TBSP corn starch (dissolved in
2 TBSP cold water)
1 lb. grape tomatoes
1 cup green onions (sliced)
Louisiana Love Seasoning Blends to taste
Italian seasoning blend to taste

METHOD:
1. Prepare a hardwood fire on your grill.
2. Clean the tenderloin of connective tissue and silver skin, lightly oil, and season well with Louisiana Love.
3. Grill until internal temperature reaches 130 – 135˚, the remove to a plate and let cool.
4. Lightly oil zucchini, season with Louisiana love and Italian seasoning, and grill until just tender but still somewhat firm, remove, and reserve about 5-6 pieces and cut their thickness in half.
5. Boil pasta until tender, drain, and reserve.
6. Place a large, heavy skillet over the fire and add butter.
7. Slice tenderloin into thin rounds, about ½ inch, reserve about ½ pound.
8. Add onions, garlic, zucchini, and sauté until onions are clear.
9. Add chicken stock and bring to boil, then stir in the corn starch solution until desired thickness is reached and reduce fire to a simmer.
10. Add tenderloin pieces, tomatoes (reserve about ½ cup), green onions, Louisiana Love and Italian seasoning to taste. Reserve 2-3 tablespoons of the sauce. Serve over pasta.