From the moment you walk into Palmyre, you feel transported to a European destination. The knowledgeable staff — ladies dressed in flouncy blue and white toile dresses and gentlemen in French chore jackets (a trend dating back to 1800s France) designed by celebrity stylist Lindsey Dupuis Bledsoe — guides you through the unique craft cocktail and swanky bites menu. You'll find caviar service, truffled deviled eggs and decadent sweets. Somehow, you're not in Lafayette anymore.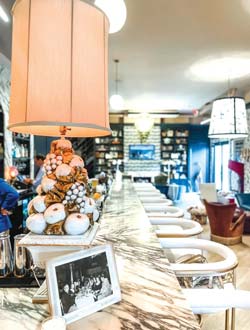 Owned by Stuart and Colleen Ottinger of Mercy Kitchen, Palmyre blends Parisian antique with mid-century modern, creating an atmosphere unlike any place in Acadiana. French for "Little Palm," Palmyre is named for Colleen's socialite great-great grandmother.
"We wanted to bring a place to Lafayette where you felt like you were transported, like landing on a European vacation or in a nice hotel bar in perhaps Manhattan," Stuart explains. "Palmyre is a place to celebrate, whether it's a birthday or a night out on the town. It has the elegance of a Parisian cocktail bar with the fun and hospitality of the South."
Behind the unique décor is renowned Nashville-based designer Lindsay Rhodes, who selected custom-made wallpaper and Venetian chandeliers, creating a beautiful yet comfortable retreat from everyday life. Nestled downstairs is a private wine room storing reserve and international wines from France, Italy and Spain, curated by sommelier Lauren Blanda.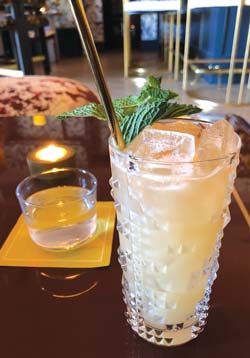 On a recent visit, my friend Stacy and I selected a cozy spot for afternoon cocktails, sipping on the tequila-focused El Diablo. The rose-colored concoction was smooth with a slight kick — absolutely divine. Impressionist lover Stacy chose the Claude Monet, a treat of Thai infused bourbon, orgeat, blood orange, lime and amaretto, accented with mint.
At the bar, Ray Ward, vice president of Libations, carefully crafted a smoke-infused bourbon specialty from the custom-created cocktail smoker. Stuart graciously shared a sip of his smoke-infused glass — ah, so civilized. "We're focusing on the cocktail but also on the presentation," Stuart says. "We're doing some things here that you don't see elsewhere in town."
With its prime location at 201 Settlers Trace Boulevard in River Ranch, Palmyre is the perfect spot to enjoy a drink and light bites after work or for a nightcap.
Palmyre is open Tuesday-Thursday from 3-11 p.m., and Friday-Saturday from 2 p.m. to 1 a.m.