Well-traveled couple Stuart and Colleen Ottinger set out to recreate their favorite big-city eating experiences at home. The Lafayette natives love sampling spots at chic hotels, sparking them to launch Mercy Kitchen, a neighborhood eatery and drinkery located at 1312 Verot School Road (formerly Bon Temps Grill). "When we set out to create Mercy, it was to fill a void that we feel Lafayette had," Stuart Ottinger explains.
And it worked. The buzz around Lafayette is that Mercy is the "in" place, from the eye-popping art (literally – the Dodge truck out front has eyes painted on it) to the boisterous bar to the inspired menu. "We really wanted to have a vibe in here that was unlike any other restaurant," Ottinger says.
DESIGNING WOMEN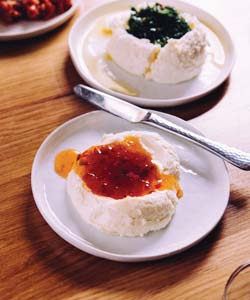 At Mercy, you'll feel like you're not in Lafayette anymore. Neon lights and a disco ball greet you inside. Bartenders vigorously shake cocktails and perfectly pour them into classic glassware. Tiny textured birds flock the wallpaper and perch Elvis' shoulder. A tiger donning Elton John attire commands the dining room.
Behind the decor is Colleen and her team, including award-winning designer Kelly Sutton and artist Ellen Macomber. Ottinger describes the atmosphere as, "energetic, funky, fun and full of life. When you order a cocktail, you get a lot of 'oohs and aahs.'"
KICK-ASS MENU
"If it made it on our menu, it had to kick ass," Ottinger emphasizes.
On the menu, you'll find unique shareables like a Whipped Cheese Board with house-made cheeses; Hallelujah Bread with white truffle oil, four cheese blend and herbs; and Gulf Shrimp Lettuce Wraps topped with pineapple pico, jalapeno ranch and sirachi.
Fan favorites include the Mercy Burger – ground chuck steak, goat cheese, peach aioli, house pickles and arugula served on a brioche bun, and The Hangover Salad – butter lettuce, tomato, fries, jalapeno, avocado, bacon, gouda sauce and Mercy Burger patty.
"If it made it on our menu, it had to kick ass," Ottinger emphasizes.
LUSCIOUS LIBATIONS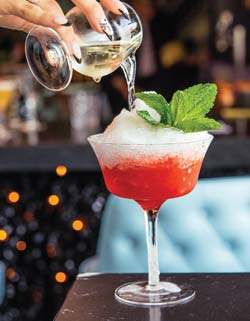 Master mixologist Ray Ward crafted Mercy's incredible cocktails made with fresh ingredients. Popular pics are Frequent Flyer — vodka, celery, elderflower, lemon and black pepper garnished with a paper airplane; Mercy-Lago — ghost pepper tequila, passion fruit, lemon, grilled pineapple topped with pineapple froth; and Rodeo Queen — Boozy Snowcone with gin, watermelon, lime, aperol and a shot of Prosecco.
"It's not just drinking, it's the visual of it being made, presented at the table, and pouring Prosecco on top of it," Ottinger explains.
LAISSEZ LES BON TEMPS ROULER
For Ottinger, Mercy Kitchen is about having fun. "I love being here. I don't call it work."