"Am I a role model?" asks Brenna Huckaby, pondering my question. "I'm not ignorant that people are looking at me, so there's definitely a level of that. And while I didn't put myself in that role … I am constantly trying to better myself." The argument could be made that Huckaby's simple refusal to quit on life — even when she had her right leg amputated when she was 14 — is the ultimate way of trying to better herself. To not quit, when many would understand if she did? That is the stuff of heroes.
Brenna Huckaby was born 25 years ago in Baton Rouge and, at the age of eight, gymnastics was her first love of athletics. "I just loved that you were never as good as you can be, and that there was always something else you could accomplish," she recalls. She loved the sport, particularly the balance beam and parallel bars. But when she entered her 13th year, her body began to push back a bit.
But … nothing to worry about. Right? "I had some knee pain, and it would come and go, and they didn't see anything on the x-ray," recalls Huckaby. "Every once in a while, I wouldn't be able to straighten my leg, and some people thought I was just being lazy. But for the most part, after I took some ibuprofen and stretched a bit, it would go away. The doctors were not worried."
But 'worry' wasn't very far away. It was just biding its time before it would enter the Huckabys' lives in a most disruptive way.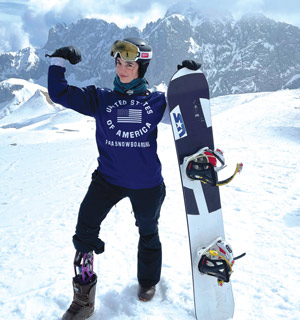 "When I was 14, I went on a run with my brother, and afterward I could barely stand." Her parents made a return visit to the doctor. "That's when they found a tumor on the x-ray. On my right leg." But the gravity of the situation wasn't fully realized at Huckaby's young age. "I didn't really understand what a tumor was, what cancer was. All that mattered to me was that my gymnastics season was over before it even started."
Presented with options, Brenna's initial battle plan was to try and save her leg. However, after chemotherapy sessions brought some initial success, the tumor soon soon doubled in size, and there was only one life-saving option remaining: Amputation.
"Honestly," begins Huckaby, "in that life-or-death situation, you don't really think about what's next, but what's going on in this moment. The decision was really easy, although the next chapter was tough. I did start to think about it."
Slowly but surely, the realities — make that, mistakenly perceived realities — began to sink in.
"I began to consider that gymnastics or any form of athletics might not be a part of the next chapter of my life." She did try to hang around her gymnastics team for a while, "… but that was too painful, watching my teammates continue on. That was really, really hard," remembers Huckaby.
"Being an athlete was such a part of me."
Huckaby was determined to find something to fill that competitive void in her soul, and she tried sports like swimming, soccer and even diving. "… But I was scared of heights," she laughs. And none of those provided the thrill or challenge she needed. Then, it was her hospital — the one whose staff had saved her life — that provided an outlet that would save her spirit.
"My hospital used to send children on a rehabilitation ski trip," says Huckaby, "and I wanted to snowboard. There were similarities to what I did in gymnastics, in particular, that reminded me of the balance beam. And I was willing to try anything that might give me a piece of my life back."
Brenna Huckaby fell in love with snowboarding almost from the very beginning. "Now, it was hard, and initially, yeah, I sucked at it," she laughs. "But very quickly, I embraced all of the levels, and yes, it was scary. But I liked the challenge and the thrill, and I knew I could be good at it if I gave it some time."
Now, let's be honest here: there is a logistical problem with a Baton Rouge teenager trying to cultivate her passion for snowboarding, right? "Yes," she chuckles, "living in Louisiana does create a rather big challenge in that regard." But Huckaby and her family found a way, as her mom found a nursing position in Utah which allowed Brenna to move and spend her last year and a half of high school in the mountains, attending classes and … snowboarding. Lots and lots of snowboarding.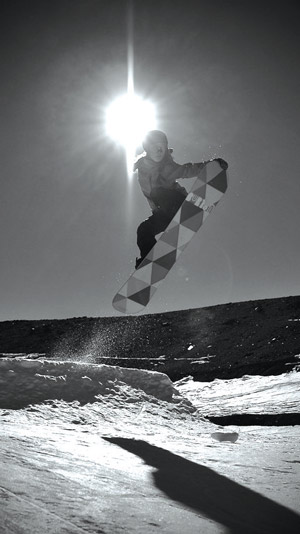 She joined a snowboarding team, so she could learn the finer points of the sport, and she began to take part in local competitions. Hard work and drive paid off, and Huckaby became good at the sport — really good — so much so that she qualified for a national event in 2014 where a pivotal moment took place. "I podiumed," she smiled. "And that sort of told me, 'I am really good at this.'"
It has only grown from there. She was invited to a World Cup event where she placed second, and at 18, she joined the U.S. National Paralympic Snowboarding Team. "Sure, at first there was the natural self-doubt, the 'I don't belong here' thoughts. But then you realize, 'I do belong here; I did earn it.'"
She pauses for a second and then laughs, "I guess it's worked out, though I do know the speed at which I've moved up is not the norm." Two gold medals at the 2018 Paralympic Games are a testament to this.
2018 brought yet another challenge for Huckaby — not health-related this time, but rather, body-image related. "Sports Illustrated asked me to pose for them. I was in Europe and got a call asking, 'Can you come to Aruba?' Within 36 hours I went from Europe, to a swimsuit in Aruba, and back to Europe to compete."
Huckaby saw the potential this could have, serving as a role model to others. "I was very aware of what this could mean, and it all turned out in such a positive way."
At the age of 25, she is considered young in her sport, and being a wife and mother to two girls (plus actively contributing to her social media content and working with her sponsorship team) hasn't slowed her down a bit.
"I'm just so honored to be a part of that group that's going out there and crushing it. We don't know what our limits are, and we're just constantly pushing it and setting new standards for what can be done."