To quote Sheryl Crow, "This ain't no disco. And it ain't no country club, either." It is about as close as you can get, though. One of the prices of progress has been the loss of the great American gay bar, and The Country Club is one of New Orleans' last handful of establishments that caters to the city's well-established LGBTQ+ community.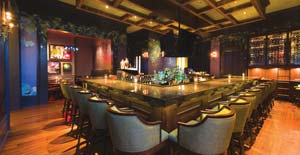 Situated on a large lot in the mostly residential Bywater neighborhood a few blocks north of the Mississippi River, The Country Club is a 40 year-old restaurant, community swimming pool, sauna and bar – and it is one of the best kept secrets of bohemian locals.
The exterior of the 137 year-old building could easily be mistaken for one of the gorgeous Victorian-era mansions for which New Orleans is known. If not for the small wooden nameplate above the huge covered front patio, it would be easy to drive by and mistake it for a diplomat's fancy home in any city. When you step inside, though, you can't help but think that this is the type of place that could only exist in New Orleans.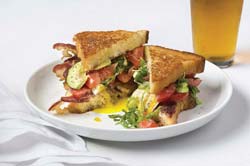 A grand foyer leads you down a well-appointed hallway. Every room flanking the hall has a completely different vibe. A one-of-a-kind chandelier here, some priceless European wallpaper there, local artwork by famous and infamous painters, tiny tile work so intricate that you have to get a few inches away to truly appreciate it, a random piece of antique furniture placed "just so" in a hallway that draws your whole attention – it feels more like someone's dream residence than a public space.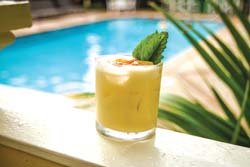 The hallway ends in a gentlemanly, cheerful barroom with tons of natural light, black walnut and granite from the floor to the ceiling. The bar opens to the main attraction, a one-plus acre colorful courtyard with a Finnish sauna, papasan chairs, palm fronds galore, two additional outdoor bars, elegant dining tables, lounge chairs and a pristine Olympic-sized pool. The daily menu includes delicious snacks and cocktails, as well as competitive fine dining options for those with a bigger appetite. Give yourself the better part of the day to enjoy The Country Club. There's a whole lot of charm to uncover.